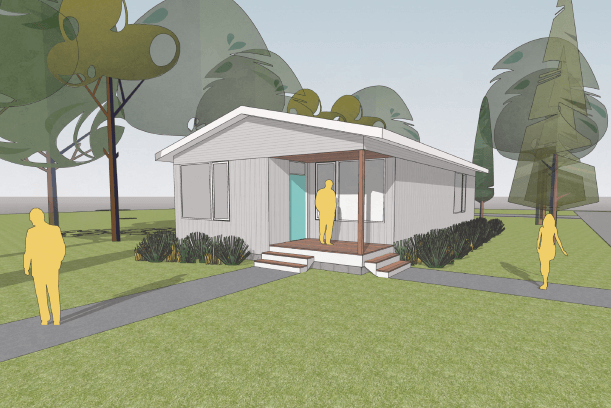 About INHP's Bungalow Pilot
INHP is honored to be a recipient of Vacant to Vibrant program funding from the City of Indianapolis Department of Metropolitan Development, which was launched to facilitate the creation of affordable rental and homeownership opportunities on vacant, city-owned lots. We'll use a portion of our allocation to pilot an innovative and market-responsive strategy to give homebuyers with low and moderate incomes more options – affordable bungalows.
Bungalows are often characterized as one-story homes with two bedrooms and one bathroom contained in less than 1,000 square feet. Because of their price point, homes of this size are often the market for many homebuyers whose incomes are near 60% of the Area Median Income (AMI) – for example, a one-person household earning approximately $40,000. In 2022, more than 2,000 homes with these features were sold in Marion County.
Additionally, data shows the average household size in Marion County is 2.41 people. Within the 46218 zip code where our pilot will be deployed, the rate lowers to 2.27 people per household. This data suggests that bungalow-style homes may accommodate many would-be buyers we serve.
Through this pilot, INHP will coordinate the development of two bungalows – a complete renovation of 1905 Colorado St., and a newly constructed 932 square-foot bungalow at 3428 E. 34 St. INHP will solicit construction and development bids from Martindale-Brightwood Community Development Corporation's Jumpstart Martindale Brightwood and their network of aspiring developers. When complete, the bungalows will be priced affordably for buyers earning less than 80% AMI. And, the pilot will help us better understand:
Builder interest in smaller-scale development, especially for emerging developers
More accurate development budget and buyer subsidy for this size of home
The demand from buyers earning low and moderate incomes
We expect these homes will be available in Summer 2024, and we look forward to the experience and knowledge we'll gain as we continue to pursue innovation in affordable housing.
###
Rendering provided by Neon Architecture.