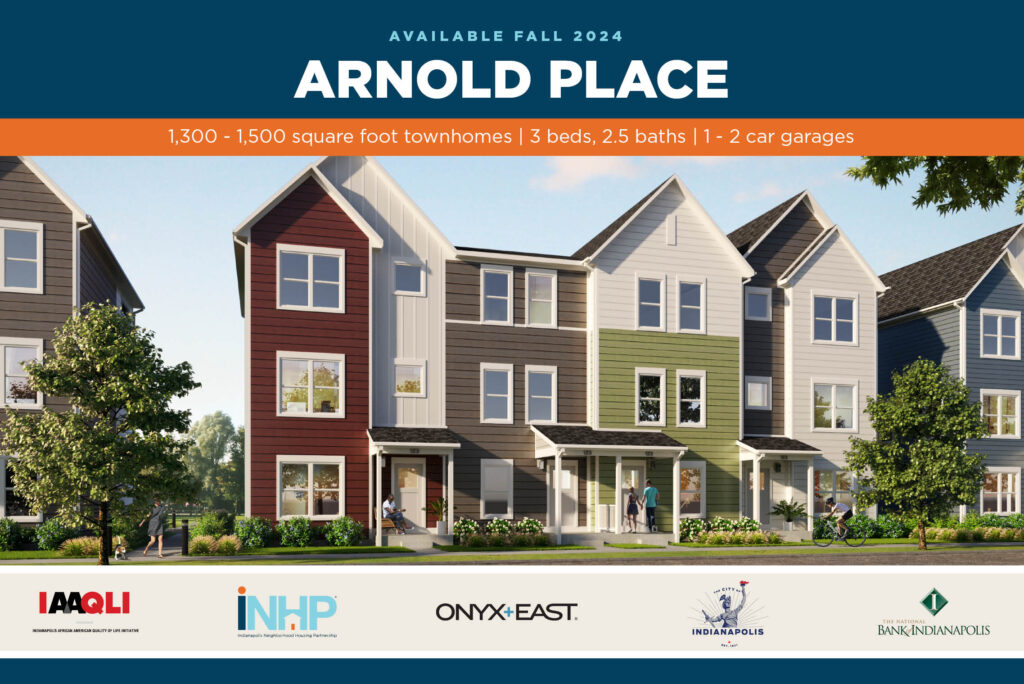 INHP and Mayor Joe Hogsett break ground on Arnold Place
Arnold Place is one of the largest single-site affordable housing opportunities in Indianapolis
Arnold Place named for neighborhood's resident centenarian
INDIANAPOLIS (October 31, 2023) – Today, the Indianapolis Neighborhood Housing Partnership (INHP) and Mayor Joe Hogsett broke ground for a 33-unit townhome development at 2434 and 2444 Winthrop Avenue, which will offer market rate and affordable housing for homebuyers earning up to 80% of area median income. The townhomes will be named Arnold Place in honor of centenarian Albert Arnold and his family who have resided near the site in the Reagan Park neighborhood for more than 69 years.
Arnold Place will sit on .92 acres of land which had been the site of Colonial Bakery Company's truck maintenance facility. It is one of four parcels in the City of Indianapolis' 25th and Monon Vision Plan outlined as opportunities to transform formerly blighted properties into productive neighborhood assets. As part of Mayor Hogsett's goal of creating and preserving affordable housing in neighborhoods that have experienced discriminatory housing and land use policies, the Department of Metropolitan Development released a Request for Proposals, calling for redevelopment opportunities that align with the 25th and Monon Vision Plan. INHP acquired the land from the City of Indianapolis and Intend Indiana, and has partnered with Onyx+East to design and build the development.
This project represents a total investment of $12 million with initial funding from the City of Indianapolis Department of Metropolitan Development and the Indianapolis African American Quality of Life Initiative, and additional partnership support from The National Bank of Indianapolis.
The site will be one of the largest affordable homeownership projects in Indianapolis in decades, and it is the largest multi-unit, single-site project for INHP since it began developing affordable homes in 2017. A majority of the 33 units will be reserved for families earning 80% or less of the area median income, as determined by U.S. Dept. of Housing and Urban Development. For Marion County, that translates to $77,350 annual earnings for a family of four.
"Arnold Place is the result of years of collaboration with our partners at the City of Indianapolis, our funders, and, most of all, the neighborhoods who helped us create a desirable and affordable place to live," said Gina Miller, president and CEO of INHP. "Reagan Park and Martindale Brightwood neighborhoods offer residents important heritage, great natural amenities and strong commitment across legacy families. We're so proud to join them in bringing new housing options to the community."
Mayor Hogsett noted the significance of the public-private townhome project in offering affordable homeownership for Indianapolis residents: "Arnold Place is development driven by the community for the community. At a time when the American Dream of homeownership – and the generational wealth that comes with it – is increasingly out of grasp for too many hard-working Indianapolis residents , Arnold Place will make it possible for neighbors to own a safe, quality place they can call home."
The Arnold Place townhomes will vary from 1,300 to 1,500 square feet featuring 2 or 3 bedrooms and 2½ baths; each unit will have an attached garage. Pricing will be announced in early 2024, with the first move-in ready homes available in mid-2024.
Neighborhood leaders offered the idea to honor the history of the area by recognizing the Mr. Albert Arnold family which has resided in the neighborhood for approximately 69 years and has influenced the area's culture, economy and faith communities.
At 101 years of age, Mr. Arnold continues to praise and advocate for the Reagan Park neighborhood: "You can always get a helping hand from someone in the neighborhood – that's important. I live next to my granddaughter and several pastors from the neighborhood churches, and everyone does what they can to help build up the neighborhood. There is a lot of pride in the neighborhood."
###
Media Kit
About INHP
The Indianapolis Neighborhood Housing Partnership® (INHP) increases affordable and sustainable housing opportunities for individuals and families in Marion County, and serves as a catalyst for the development and revitalization of neighborhoods. INHP supports people by providing homebuyer and financial education, one-on-one homeownership advising, home purchase and home repair lending, and economic mobility programming for renters. As a Community Development Financial Institution (CDFI) INHP also supports the creation or preservation of affordable housing through investments in affordable housing development, land banking, community lending and grantmaking. For more information, visit INHP.org.
About the City of Indianapolis Department of Metropolitan Development: 
The City of Indianapolis Department of Metropolitan Development works to shape the city's identity by strengthening people and places, building upon our history, and fostering visionary development. DMD envisions Indianapolis as a growing, vibrant, and beautiful city where people and businesses thrive in an inclusive, world-class community. 
About 25th & Monon Vision Plan
The City of Indianapolis' Department of Metropolitan Development (DMD) Long-Range Planning team, in partnership with DMD's Real Estate and Economic Development team and Greenstreet consultants, completed a community development planning process for four DMD-owned sites in the Martindale-Brightwood area in Winter 2021. The planning process, which resulted in the 25th & Monon Vision Plan, explored potential future uses of the sites based on the community's desires, brownfield status of each site, and market conditions. The completed Vision Plan outlines the framework that was utilized throughout the process, and includes the guiding principles, development program, and inclusive development recommendations. The final 25th & Monon Vision Plan can be viewed here.