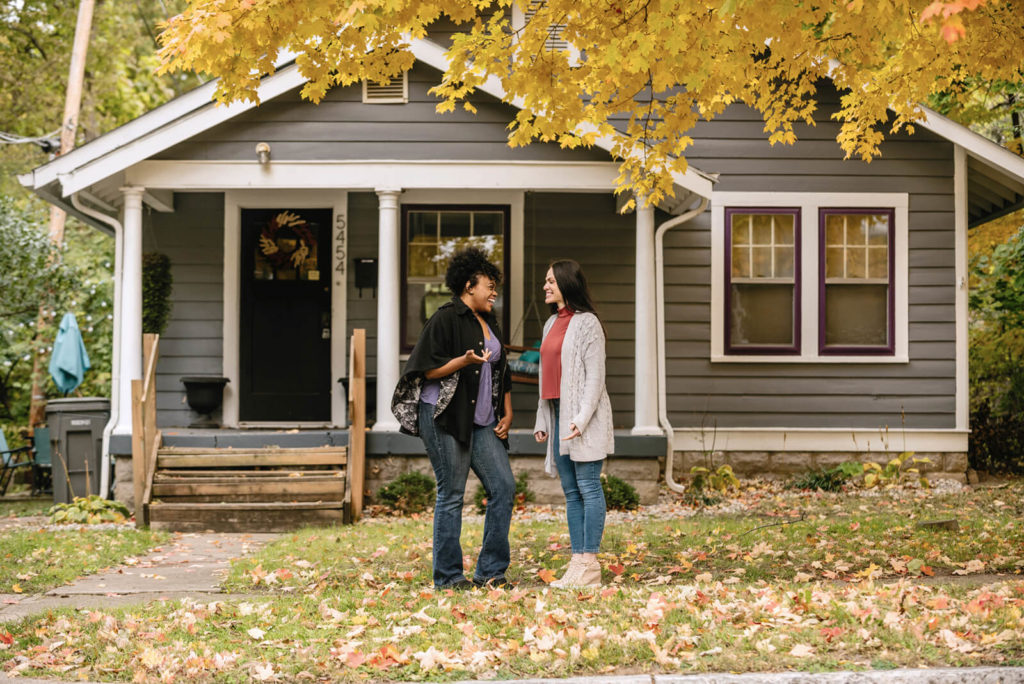 INHP launches Equitable Transit-Oriented Development loan fund
$15 million fund to be used to preserve or cause the development of affordable housing along mass transit lines
INDIANAPOLIS (Feb. 5, 2019) – The Indianapolis Neighborhood Housing Partnership® (INHP), in collaboration with Cinnaire, has launched the city's first Equitable Transit-Oriented Development (ETOD) loan fund that will be used to preserve affordable housing or spur development near Indianapolis transit lines.
The $15 million fund will be comprised of $12 million in lending capital and $3 million in equity. Four local financial institutions have already committed $5 million as lines of credit, and the rest is in various stages of closing. The $3 million is committed equity from INHP, the City of Indianapolis and JPMorgan Chase. Through the fund, INHP aims to:
Preserve or cause the development of 1,000 affordable housing units within a short distance of a transit stop, consistent with the neighborhoods' priorities
Enable equitable access to jobs, education, healthcare and more
"The ETOD fund puts a deliberate focus on the availability of quality affordable housing near transit, especially as IndyGo's bus rapid transit lines transform Indianapolis," said Moira Carlstedt, president and CEO of INHP. "We believe everyone should have equal opportunity to live in a neighborhood with easy access to employment, health care, child care, education, food and support services."
Studies show Indianapolis' families spend an average of 46 percent of their income on housing and transportation. Through ETOD, INHP and Cinnaire are promoting housing choice and affordability and providing affordable access to jobs, education, healthcare, food and cultural amenities – all the ingredients needed for economic mobility. The fund will also promote the development of a vibrant local economy by supporting density, which is a key factor in area business growth.
INHP partnered with Cinnaire, a fellow community development financial institution (CDFI), to leverage the organization's experience in real estate finance. Cinnaire will manage the fund, and INHP will act as sole borrower to acquire existing buildings or vacant/underused properties suitable for preserving or developing mixed-use, mixed-income housing. To date, INHP has acquired two properties using the fund – 401 Southern Ave. and 2163 N. Illinois St. in Indianapolis.
"The launch of the ETOD fund is a catalytic event for the City as we work together to preserve affordable housing and revitalize development near Indianapolis transit lines," said Rick Laber, Cinnaire Executive Vice President New Ventures. "With the support of so many socially motivated partners, the fund is a model on how we can strengthen communities by providing equitable access to jobs, education and healthcare."
The first four financial institutions providing lending capital for the ETOD loan fund are First Merchants Bank, National Bank of Indianapolis, Lake City Bank and First Financial Bank. JPMorgan Chase was the first philanthropic partner to join INHP and the City of Indianapolis, and their equity investment helped activate the ETOD fund in its initial stages.
"JPMorgan Chase is committed to helping everyone share in the rewards of a growing economy. While many residents across the city are doing well, we know that with access to necessities like affordable housing and transportation, more people will have opportunities to move up the economic ladder," said Al Smith, Chairmen for JPMorgan Chase in Indiana. "We are proud to work alongside INHP, Cinnaire, the City and the other partners to advance inclusive economic development near our city's transit lines."
The idea for Indianapolis' ETOD initiative originated through the Greater Indianapolis Progress Committee's collective impact Plan 2020 visioning process. INHP began developing the fund's structure with Cinnaire in 2013 and allocated a portion of their 2015 transformational $26.6 million Lilly Endowment Inc. grant to help fund the initial investment.
###
About INHP
The Indianapolis Neighborhood Housing Partnership® (INHP) increases affordable and sustainable housing opportunities for individuals and families in Marion County, and serves as a catalyst for neighborhood revitalization. INHP enables families to become and remain long-term, successful homeowners through homebuyer education, mortgage and credit advising and lending services. INHP also provides thought leadership, technical assistance, financial support and programming to community partners dedicated to neighborhood revitalization. For more information, visit INHP.org.
About Cinnaire
Cinnaire is a community development finance partner that creates opportunities for people in need by seeking out and developing partnerships with mission-focused organizations and investors, and by deploying capital and expertise to foster community-driven revitalization. In the past 25 years, Cinnaire has worked in partnership with investors and developers to invest more than $4.2 billion in community development in nine states including the development of more than 50,000 homes for people and families in need. For more information, visit cinnaire.com.