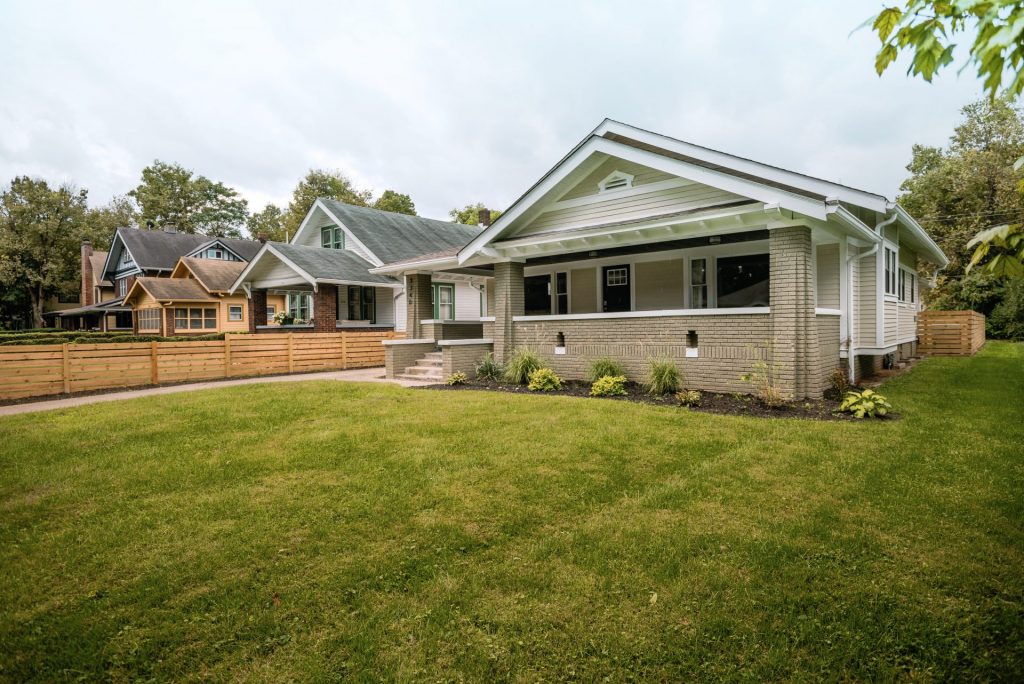 INHP awarded $7 million from Lilly Endowment Inc. through Enhancing Opportunity in Indianapolis initiative
INDIANAPOLIS – The Indianapolis Neighborhood Housing Partnership (INHP) has received a grant of $7 million from Lilly Endowment Inc. through its initiative, Enhancing Opportunity in Indianapolis. The grant will support new and existing housing solutions with seven partner organizations – all of which are also receiving grants from the initiative – to help clients obtain affordable rental housing and homeownership.
INHP is one of 28 organizations being supported through Enhancing Opportunity in Indianapolis, an initiative designed to improve the livelihoods of individuals and families facing complex and varied challenges associated with poverty and financial insecurity.
With this funding, INHP will build upon its existing core services while implementing new ones that layer into each partner organization's economic mobility program. The new services were designed in consultation with each partner and will focus on providing housing stability for clients as they work to attain more earning power.
New programs include:
Rental Bridge, which will provide rent payment assistance to ensure a participant can complete an economic mobility program while not becoming housing cost-burdened (spending more than 30% of a household income on housing costs)
Bridge to Homeownership, which will offer participants a chance to lease an affordable home first, while a portion of the lease payment will be set aside for a down payment so they can buy the home after 25 months.
Matched Savings Account, which will help clients build more savings that they can use toward first month's rent, moving expenses, a down payment and closing costs. These expenses often are barriers to achieving housing stability.  
INHP core services that will complement these new offerings include one-on-one homeownership advising, financial literacy and homebuyer education, single-family lending, community lending and Equitable Transit-Oriented Development.  
INHP partners will include:
Eastern Star Church Jewel Human Services Corporation
Englewood Community Development Corporation
Goodwill of Central and Southern Indiana
HVAF of Indiana
Indiana University Health Foundation
La Plaza
Southeast Community Services
Lilly Endowment launched Enhancing Opportunity in Indianapolis in 2019 because poverty and financial insecurity have been persistent challenges in Marion County. Research has indicated that around 20 percent of residents in the city have been living in poverty and an additional 20 percent have been living close to poverty and struggling to make ends meet.
Through Enhancing Opportunity in Indianapolis, Lilly Endowment invited eligible organizations to consider how they would work comprehensively with other community partners and employers to help residents make progress toward achieving lasting economic self-sufficiency. Due to the number of high-quality proposals Lilly Endowment received and the compounding challenges COVID-19 brought to bear on already vulnerable individuals and families, Lilly Endowment nearly doubled its initial funding commitment to more than $93 million.
###
About Lilly Endowment Inc.
Lilly Endowment Inc. is an Indianapolis-based, private philanthropic foundation created in 1937 by J.K. Lilly, Sr. and his sons Eli and J.K. Jr. through gifts of stock in their pharmaceutical business, Eli Lilly and Company. Although the gifts of stock remain a financial bedrock of the Endowment, it is a separate entity from the company, with a distinct governing board, staff and location. In keeping with the founders' wishes, the Endowment supports the causes of community development, education and religion. The Endowment funds significant programs throughout the United States, especially in the field of religion. However, it maintains a special commitment to its founders' hometown, Indianapolis, and home state, Indiana.