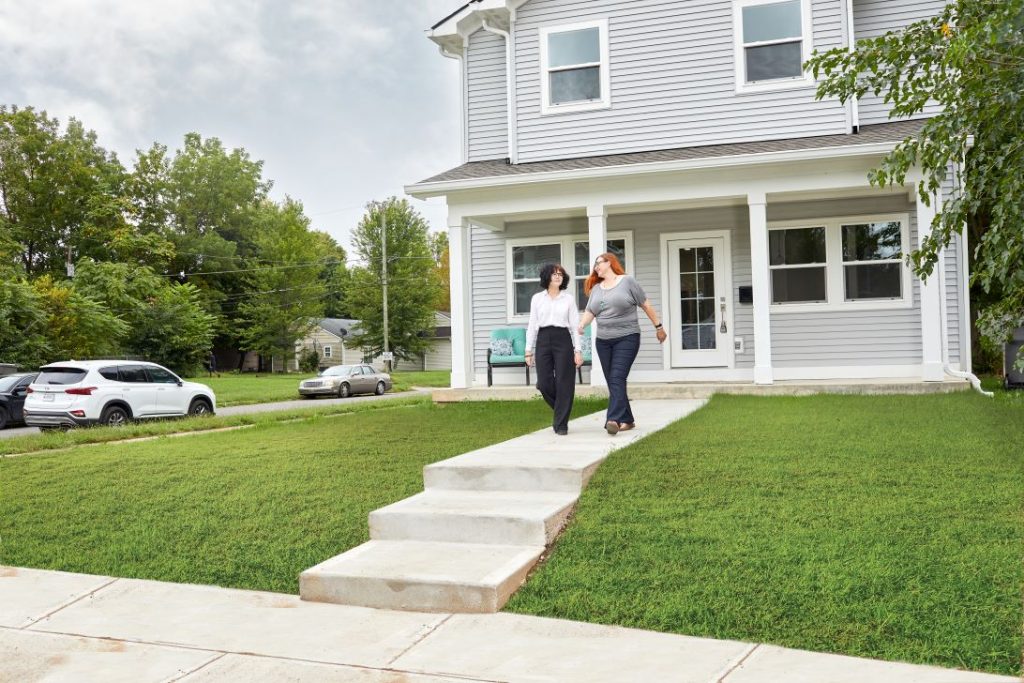 INHP crosses two milestones with innovative programs
INHP recently crossed two milestones demonstrating our commitment to our people and place-based mission.
50 Affordable Homes
On September 10, 2021, we were privileged to sell the 50th home we've developed since 2017. The buyer was INHP client Brandi – a single mom raising Jamison – who is thrilled to have a corner lot in the Riverside neighborhood to call her own. This home is especially meaningful because it stands on a once-vacant lot owned by her employer, Renew Indianapolis – an INHP partner in the development of many of our affordable homes. INHP purchased the lot, and several adjacent lots, through Renew Indianapolis' Land Bank for the development of new, affordable homes.
Not only is this a significant achievement for the 50 consumers who purchased an affordable home from INHP, but also the neighborhoods that have invited us to work with them in support of their housing goals. We are proud of our purposeful approach to work in partnership with the seven neighborhoods where these homes now stand. And, we remain committed to seeking the resources and subsidy necessary to develop and sell more homes that are affordable across Marion County.
100th Mortgage Accelerator Loan
You may recall INHP client Keirra who gave us a tour during the Community Breakfast of the home she would purchase as it was under construction. We now celebrate her for becoming the 100th INHP client to finance a home using INHP's Mortgage Accelerator lending product. This loan is specifically designed to help clients like Keirra accumulate wealth quicker, because it features a significantly low interest rate packaged into a 20- or 25-year payment term.

The program was first introduced in 2018 and has helped individuals and families begin to build more equity in their homes. Additionally, this equitable lending program is helping minority families achieve homeownership. In 2021 alone, 54% of the Mortgage Accelerator loans have been made to minority borrowers living in all corners of Marion County. This data encourages us to continue innovating as a lender to provide more access, choice and equitable opportunity in the housing market.