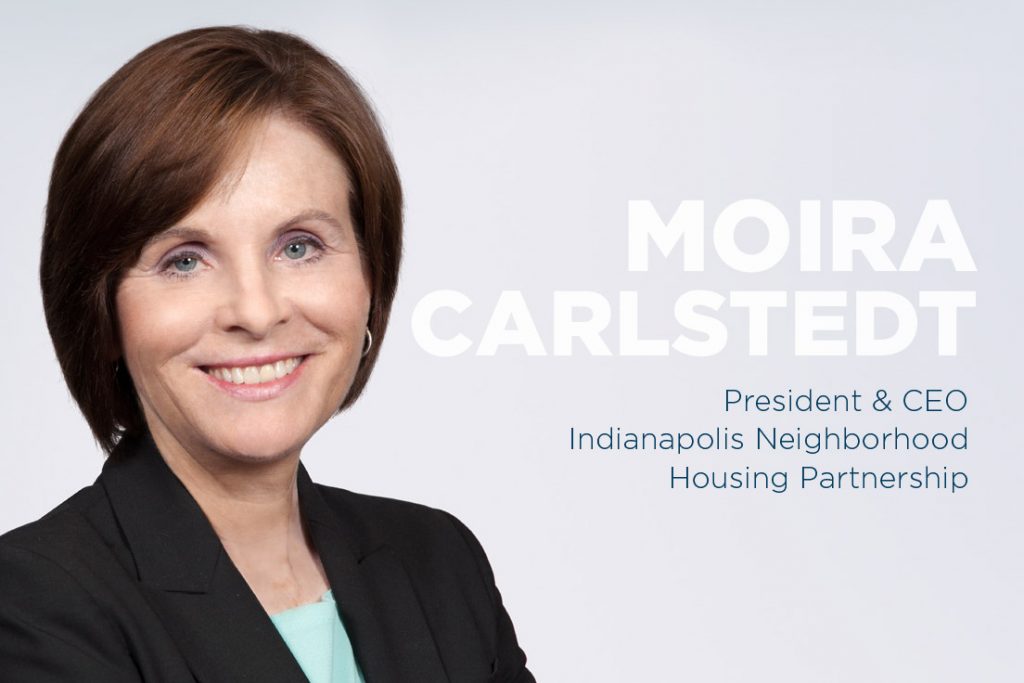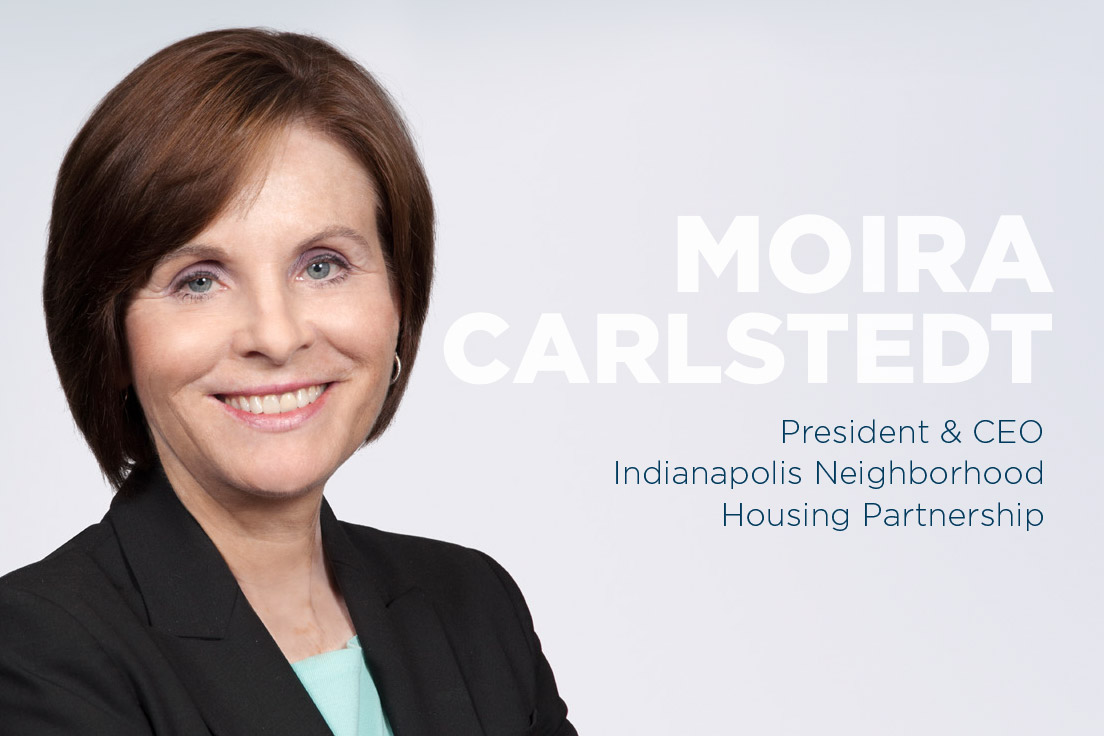 Moira Carlstedt to retire as President and CEO
INDIANAPOLIS (Feb. 22, 2022) – Today, the Indianapolis Neighborhood Housing Partnership® (INHP) announces President and CEO Moira Carlstedt will be retiring from her position in 2022.
Moira has led the organization for 24 years in pursuit of its mission to increase affordable and sustainable housing opportunities for individuals and families, and serve as a catalyst for the development and revitalization of neighborhoods. During her tenure, thousands of individuals and families, and many Marion County neighborhoods, have been empowered to reach their housing and community development goals using INHP's comprehensive resources.
"Moira's leadership and passion for INHP's mission, its staff, the community, and the families and neighborhoods we serve is unparalleled," said Gina Miller, INHP board chairperson, and COO and CFO of United Way of Central Indiana. "On behalf of INHP's board and leadership, we congratulate Moira for the profound legacy she leaves on the organization and wish her well in her retirement."
INHP's board of directors will be conducting an executive search to ensure INHP has a trusted and skilled leader moving into the future who continues to expand INHP's engagement in affordable housing and community development in the Indianapolis community. Moira will continue to serve in her current role until later this year when a new President and CEO is hired, which is expected to be in fall 2022.
"While I am retiring from INHP, I will remain engaged in the nonprofit world, likely in the areas of affordable housing, community development and nonprofit management; however, experience has taught me to remain intellectually curious and open to new ideas and opportunities," states Carlstedt.
Moira became INHP's third chief executive in the organization's history in 1998. Since that time, the nonprofit has engaged in a broad range of public-private partnerships alongside diverse local, state and national organizations, four mayoral administrations, neighborhood organizations, and the philanthropic community to support affordable housing and community development in Marion County. Some key organizational highlights during her leadership include leveraging its designation as a U.S. Department of Treasury Certified Development Financial Institution (CDFI) and earning a four-star AA rating from CDFI assessor Aeris®, executing a robust Indianapolis Neighborhood Development Initiative Grant program, becoming a subject matter expert in affordable housing issues at a local and national level, creating a commercial lending arm, developing affordable single family homes and launching the Equitable Transit-Oriented Development program, while establishing itself as Indianapolis' pre-eminent resource for homebuyer education, homeowner preparation and mortgage lending services for households earning low and moderate incomes.
###