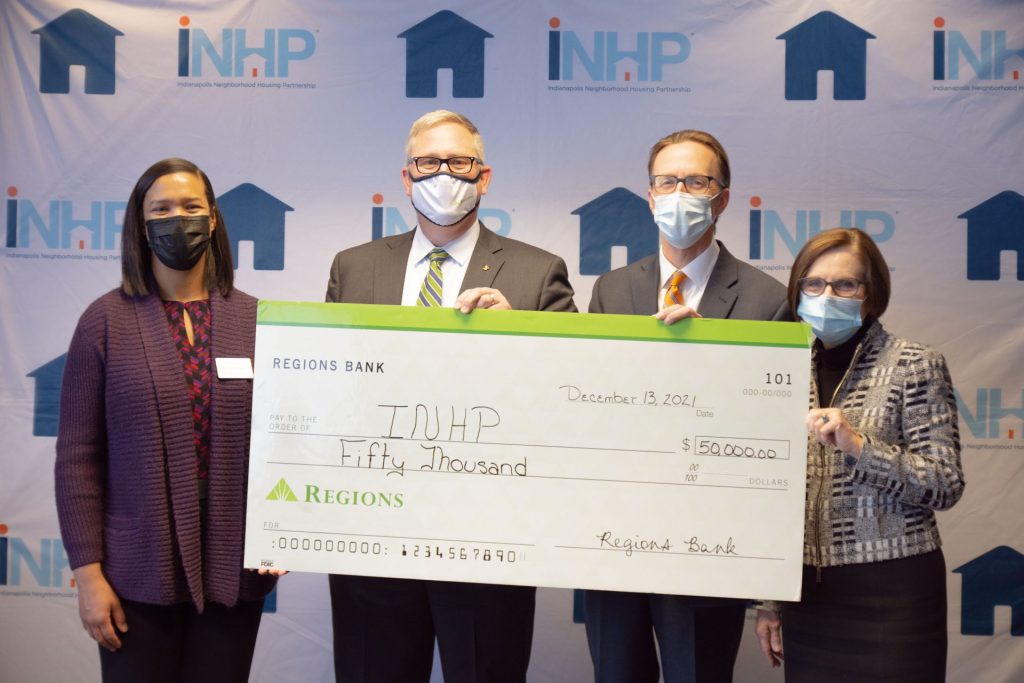 Regions Foundation supports INHP homeowner development programs
Monday, Dec. 13, 2021 – The Regions Foundation, a nonprofit organization primarily funded by Regions Bank, on Monday announced a $50,000 grant to support INHP. The donation will benefit INHP's Homebuyer Preparation Program, which pairs a HUD certified homeownership advisor with an aspiring homebuyer earning a low or moderate income.
"Buying a house represents a significant milestone, and every family's journey to reaching that milestone is unique. INHP helps families overcome financial barriers and provides homebuying solutions through its innovative programs. The result is not only that more people in Indianapolis can achieve homeownership – this also means more people are able to build generational wealth through the long-term benefits of owning your own home." – Marta Self, executive director of the Regions Foundation.
"We are grateful the Regions Foundation, as well as our longtime community partners at Regions Bank, have chosen to support the mission of INHP as we empower people with low and moderate incomes who are working to achieve their housing goals. This grant from the Regions Foundation allows INHP to continue providing comprehensive programming that creates knowledgeable consumers and improves equitable access to safe, decent and affordable housing in the neighborhoods where they choose to live." – Moira Carlstedt, president and CEO, INHP.
(Pictured L to R: Nicole Woodson, Regions; Erik Miner, Regions; Rob Evans, INHP; Moira Carlstedt, INHP)
###