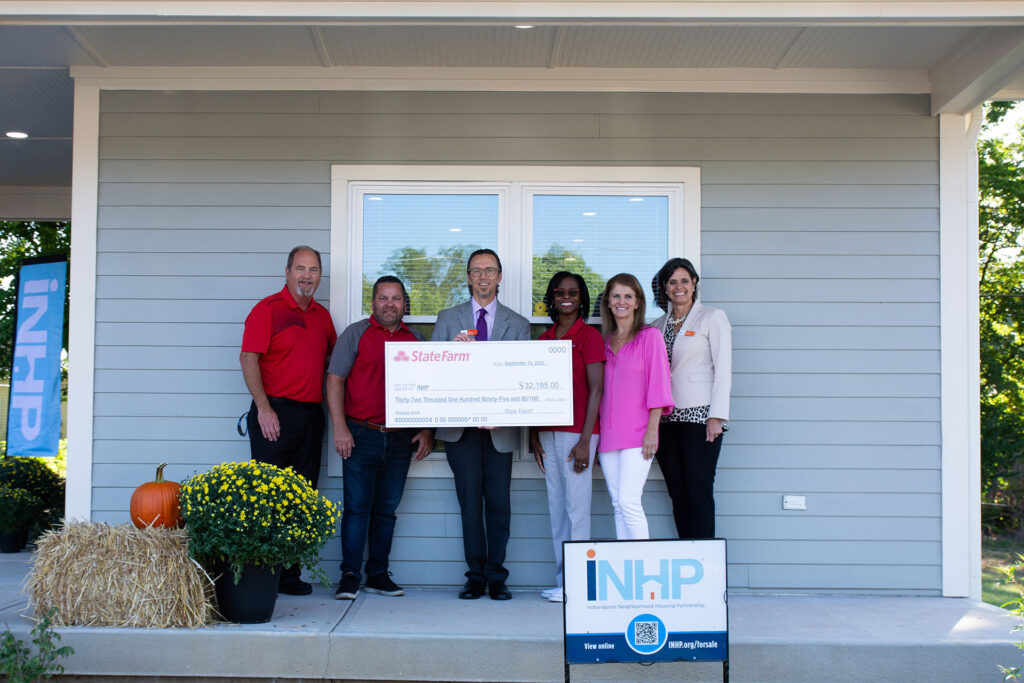 State Farm Supports INHP Affordable Housing Programs with $32,195 Grant
As part of its commitment to supporting affordable housing for Hoosiers, State Farm has awarded $32,195 to Indianapolis Neighborhood Housing Partnership (INHP). The grant will provide INHP with philanthropic capital necessary to continue offering its wide range of affordable housing solutions – solutions for both consumers with low and moderate incomes and the neighborhoods in which they choose to live.
As housing affordability continues to climb out of grasp for many of our Indianapolis neighbors, State Farm's generous gift provides operating support to continue our INHP's mission throughout Marion County.
"We will continue to support and empower families and individuals to reach their housing goals," explained Morgan Hoover, Vice President of Philanthropy and Marketing at INHP. "State Farm has been a long-term supporter of the Indianapolis community, and through this grant and others we will continue to help people realize their dreams," stated Hoover.
While rising housing prices and mortgage interest rates are complicating that for many hardworking Hoosiers, it's important for families to have access to financial products and programs that can help them be knowledgeable in the marketplace. INHP's efforts in homebuyer education, lending, and homebuilding keep affordability possible in Indianapolis.
###
About State Farm
For over 100 years, the mission of State Farm has been to help people manage the risks of everyday life, recover from the unexpected and realize their dreams. State Farm and its affiliates are the largest providers of auto and home insurance in the United States. Its more than 19,400 agents and 67,000 employees serve over 91 million policies and accounts – including auto, fire, life, health, commercial policies and financial services accounts. Commercial auto insurance, along with coverage for renters, business owners, boats and motorcycles, is also available. State Farm Mutual Automobile Insurance Company is the parent of the State Farm family of companies. State Farm is ranked No. 44 on the 2023 Fortune 500 list of largest companies. For more information, please visit http://www.statefarm.com.
Group (L to R): Jim Slaven (State Farm), Shawn Higgins (State Farm), Rob Evans (INHP), Wanda Bell-Brown (State Farm),
Haleh Krauter (State Farm), Gina Miller (INHP)