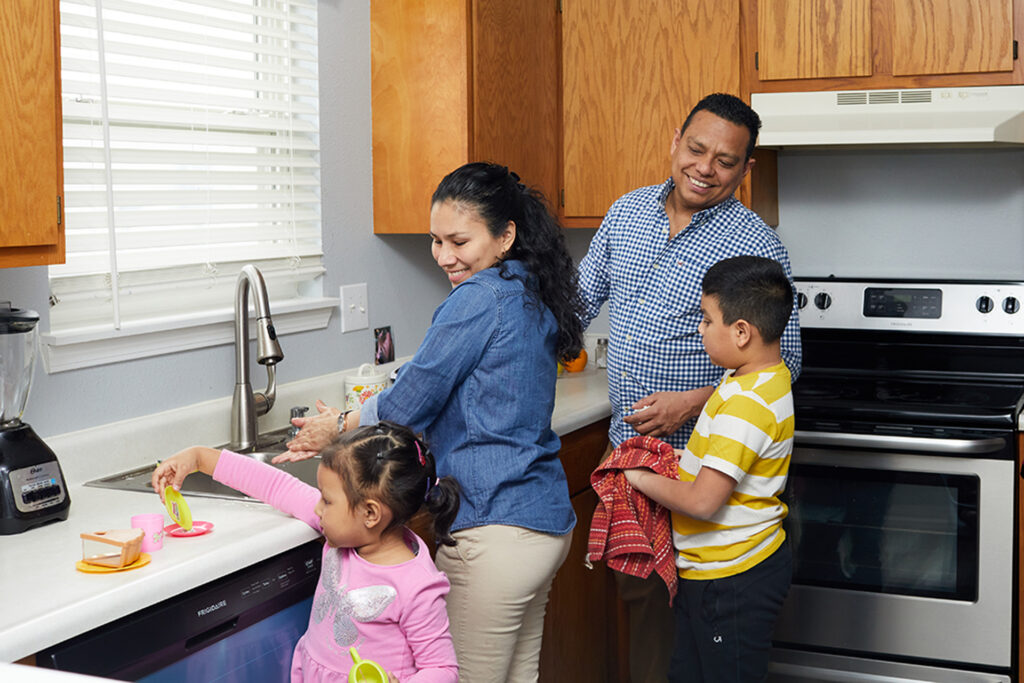 Celebrating a homeownership dream come true this Hispanic Heritage Month
As we celebrate Hispanic Heritage this month, meet Edwin and Amilda who are reaching for their "American Dream."
When Edwin and Amilda left their home in Nicaragua, they arrived like so many immigrants with little more than their backpack full of dreams – a desire to build a life of opportunity for themselves and for their children. And, as many others aiming for that "American Dream," they desired the stability that a home provides, with visions of good health, education and prosperity.
The couple had been working with La Plaza of Indianapolis to learn about starting their own business and were introduced to INHP's Bridge to Homeownership program which put them on their journey to fulfill this dream. The economic mobility program, made possible by Lilly Endowment Inc.'s Enhancing Opportunity in Indianapolis initiative, allowed them to move into their new home as renters while INHP sets aside a portion of their monthly payments to be used as a down payment to buy the home after 25 months.
While the homeownership rates for Hispanics are a fraction of white homeownership rates nationally and locally, Edwin and Amilda found an opportunity where others may also thrive. Through programs that support them on their journey, Edwin and Amilda are closer to reaching their goals.
"They come here because of the American dream so that they have somewhere they can call their own and not have to go from apartment to apartment, from house to house," said Mariana Lopez-Owens, director of education programs at La Plaza. They want to be in a stable place where they can grow their families and have something to pass on to future generations
INHP is proud to partner with organizations in the community like La Plaza that support the Hispanic population and empower them to achieve their dream. INHP offers education, advising and affordable home loans that create access and choice in housing for those earning low and moderate incomes in Indianapolis. 
Edwin and Amilda hope to inspire others on their journeys to reach their housing goals. This Hispanic Heritage Month, if you are pursuing homeownership, know that INHP and its partners are here to support you at each step. Whether it's creating a budget or finding an affordable home, we will work with you to develop a path to reach your goals.    

During Hispanic Heritage Month, we also hope to see you at this upcoming event!
Indiana Latino Expo
Saturday, Sept. 23
Expo Hall, Indiana State Fairgrounds, 1012 E 38th St. Indianapolis, IN 46205
The Indiana Latino Expo is an annual event to celebrate Hispanic Heritage Month and provides local resources for the Hispanic community.